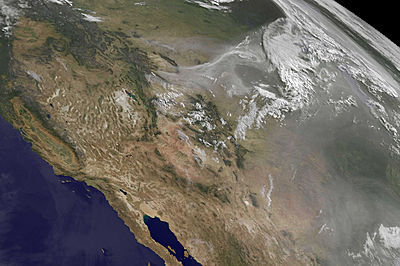 Dozens of
wildfires are raging around the western United States
, and the large-scale burns are sending smoke as far east as Greenland, according to some atmospheric models.
In all, about 60 wildfires are burning around the nation, from Alaska to Utah to Florida, and satellite images show hazy curtains of smoke hanging over huge portions of the eastern two-thirds of the country.
Smoke travels well, said Georg Grell, a meteorologist with the National Oceanic and Atmospheric Administration's (NOAA) Earth System Research Lab in Boulder, Colo.
The hotter the fire, the higher its smoke can go - and the higher the smoke goes into the atmosphere, the farther it typically travels, Grell told OurAmazingPlanet.
"The winds are much stronger up there, so it gets transported much quicker," he said. In addition, once smoke gets to certain altitudes, it's less likely to be washed out of the air by rainstorms, Grell said.
Smoke from extremely hot wildfires can rise 4 to 5 miles (7 to 8 kilometers) into the atmosphere,
and can even trigger massive thunderstorms
, but it's likely that the smoke from the recent spate of fires is hanging out about 1 mile (1.5 km) above the ground.