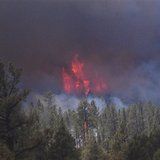 Reserve - A smoky haze hangs over the rugged canyons and tree-covered expanses of southwestern New Mexico as the largest wildfire in the state's recorded history marches across more of the Gila Wilderness.
The virtually unchecked wildfire is fueling experts' predictions that this is a preview of things to come as states across the West contend with a dangerous recipe of wind, low humidity and tinder-dry fuels.
The Whitewater-Baldy blaze has charred more than 190,000 acres, or nearly 300 square miles, in Gila National Forest and has become the largest wildfire burning in the country.
Gov. Susana Martinez viewed the fire from a New Mexico National Guard helicopter Thursday and saw the thick smoke shrouding some of the steep canyons that are inaccessible to firefighters. She described the terrain as "impossible," saying there was no way for firefighters to directly attack the flames in the rugged areas of wilderness.
"It's going to keep going up," she said of the acreage burned. "Be prepared for that."