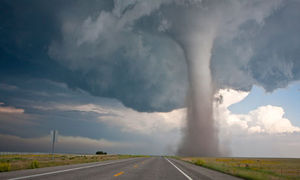 Tornados, wildfires, droughts and floods were once seen as freak conditions. But the environmental disasters now striking the world are shocking signs of 'global weirding'
Drought zones have been declared across much of England and Wales, yet Scotland has just registered its wettest-ever May. The warmest British spring in 100 years followed one of the coldest UK winters in 300 years. June in London has been colder than March. February was warm enough to strip on Snowdon, but last Saturday it snowed there.
Welcome to the climate rollercoaster, or what is being coined the "new normal" of weather. What was, until quite recently, predictable, temperate, mild and equable British weather, guaranteed to be warmish and wettish, ensuring green lawns in August, now sees the seasons reversed and temperature and rainfall records broken almost every year. When Kent receives as much rain (4mm) in May as Timbuktu, Manchester has more sunshine than Marbella, and soils in southern England are drier than those in Egypt, something is happening.