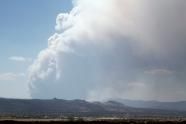 Thousands of residents calmly fled Monday from the mesa-top town that's home to the Los Alamos nuclear laboratory, ahead of an approaching wildfire that sent up towering plumes of smoke, rained down ash and sparked a spot fire on lab property where scientists 50 years ago conducted underground tests of radioactive explosives.
Los Alamos National Laboratory officials said that the spot fire was soon contained and no contamination was released. They also assured that radioactive materials stored in various spots elsewhere on the sprawling lab were safe from flames.
The wildfire, which began Sunday, had destroyed 30 structures south and west of Los Alamos by early Monday and forced the closure of the lab while stirring memories of a devastating blaze in May 2000 that destroyed hundreds of homes and buildings.
"The hair on the back of your neck goes up," Los Alamos County fire chief Doug Tucker said of first seeing the fire in the Santa Fe National Forest on Sunday. "I saw that plume and I thought, 'Oh my God here we go again.'"