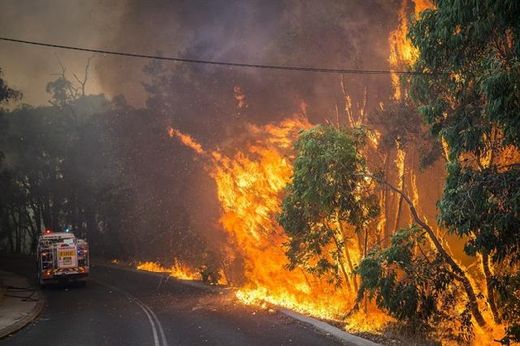 A fast-moving wildfire destroyed at least 27 homes in western Australia's Perth, officials said Monday, with one man dying as he prepared for the approaching inferno.
The blaze, thought to have been started by a fallen power line in the city's wooded outskirts on Sunday, was fanned by hot, strong gusts that saw 20-metre (66-foot) flames tear through residential streets.
"It has been confirmed that 27 homes have been lost at this stage, but this number is expected to increase as damage assessments continue throughout the day," Western Australia state's fire and emergency services department said.
The ambulance service said a man, aged 62, had died after collapsing on the roof of his house as he prepared for the oncoming blaze.
"St John('s Ambulance) responded to the incident but was unable to access the roof," it said.
"Despite assistance from the Department of Fire and Emergency Services in getting onto the roof, the man passed away at the scene."
Hundreds of residents fled their homes for evacuation centres and were anxiously awaiting news Monday. Some said they'd had only seconds to escape.
"We obviously knew that the fire was moving pretty quickly," Stoneville resident Aaron Miles told the Australian Broadcasting Corporation.
"We just went for the important stuff -- hard drive, documents. Everything else is technically replaceable if it comes to that."
Officials said the blaze had been contained but not controlled and warned that there was still a risk to life and property if conditions shifted. There were 275 firefighters still battling the flames.
"If you are not at home, do not try to return as conditions in the area could be very dangerous," the fire service said.
"If you are at home, do not try to leave as conditions in the area could be very dangerous and you will not be able to return."
Perth sweltered through a heatwave over the weekend with temperatures reaching 44 degrees Celsius (111 Fahrenheit).
That heat system is now moving east across the continent, with temperatures in excess of 40 degrees forecast in Adelaide and Melbourne later this week.
Wildfires are a common feature of Australia's December-February summer months, with a devastating firestorm in 2009 killing 173 people and razing thousands of homes in south-eastern Victoria state.
Unseasonably early infernos broke out in the Blue Mountains west of Sydney in October, destroying more than 200 homes and claiming two lives.
It followed an unusually dry and warm winter and record spring temperatures, prompting debate about the role of climate change.
Source: Agence France-Presse