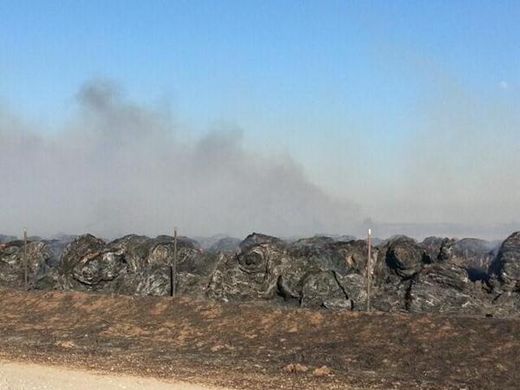 Several outbuildings were destroyed in a large wildfire that swept through Logan County Sunday afternoon.
Oklahoma's Wildland Task Force was deployed as
local fire crews battled flames than spanned across an estimated 1,200 acres
near County Road 73 and Post Road.
Guthrie Fire Chief, Eric Harlow says
more than 20 agencies assisted in the effort to bring flames under control
. Two dozen homes were evacuated as a precautionary measure.
Harlow says strong winds caused hot spots from a Saturday fire in Logan County to flare up into a massive fire around noon Sunday.
Clouds of smoke could be seen from miles away, strong winds gusting more than 30 miles per hour swept the fire within five feet of Ralph Hanley's home.
"We came out here and all this here had been burned off," said Hanley, pointing to his backyard, "our neighbors had come over and fought the fire to keep it away from the house."
Hanley and his family was still at church when the flames sparked. Hanley says some good neighbors doused his yard with water while he was gone.
"I'm just happy that it didn't hit our house," said Joseph Matthews, Hanley's grandson, "because it came dangerously close to it."
Matthews lives down the street from Hanley, the outbuildings on his family's property was destroyed.
"We were very fortunate it didn't you know, burn our homes down and no one was hurt," said Hanley.
The Logan County Fire is just one of many wildfires crews battled across Oklahoma Sunday.
"With the winds like they are, it makes our job next to impossible,"said Harlow.
Harlow says high winds made it difficult to get flames under control, but so do dry conditions and cedar trees.
"It's basically like a match stick soaked in gasoline," said Harlow, regarding cedar trees, "it goes up very fiercely and very fast."
As fire crews across the state fight through Oklahoma's winter fire season, Hanley says he's thankful for the people who keep his family out of harm's way.
"The good lord just protected us," said Hanley.
Families evacuated as a precautionary measure were allowed to return home by Sunday evening. Harlow says fire crews will keep an eye on hot spots throughout the night.