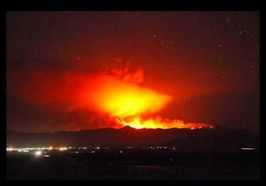 Crews battle western Idaho fire near U.S. Highway 95
Horseshoe Bend, Idaho - Authorities say U.S. Highway 95 has been reduced to one lane near Midvale as crews battle a 600-acre wildfire in western Idaho.
The Roadside Fire started early Friday and the cause has not yet been determined.
Denise Cobb with the Payette National Forest says the fire is burning on a mix of private, state, and federal land within the forest's protection zone. Officials reported just before 2 p.m. that the blaze had crossed Sage Creek and was heading northwest.
To the south, firefighters said a brush fire that burned 100 acres near Highway 55 outside of Horseshoe Bend had been contained. The Summit Ridge Fire ignited Thursday afternoon and forced the evacuation of more than 10 homes.