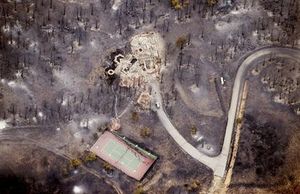 Hundreds of residents evacuated by a wildfire that has destroyed at least 169 houses in the Colorado foothills were being temporarily allowed back to their homes Thursday.
Firefighters were also working to make progress containing the fire ahead of strong winds expected later in the day. Gusts of up to 60 mph could blow away the little moisture the area has seen and spread the fire beyond the 20-mile-long perimeter.
Containment lines have been built around 30 percent of the fire, but firefighters warned that progress could be undone.
"The wind event tonight, we could be off to the races," said Rob Bozeman, field observer with the Boulder Mountain Fire Protection District.