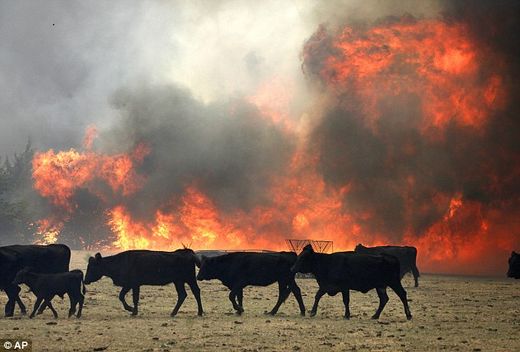 Wildfires sweeping through parts of Texas and Oklahoma have destroyed dozens of homes and forced hundreds of people to evacuate, and although officials don't yet know what ignited the blazes, a summer heat wave and drought have left both states with the perfect fuel: parched ground and dry vegetation.
"We're in severe drought conditions, so just the tiniest little spark can start a wildfire," Texas Forest Service spokeswoman April Saginor said.
The Texas Forest Service warned that the weather could also hamper efforts to contain the fast-moving blaze in North Texas that destroyed at least 20 homes in a lakeside community Tuesday. The fire also was threatening about 125 other homes in the Possum Kingdom Lake area, about 75 miles west of Fort Worth.
"It sounds like we're still going to have winds today," said John Nichols, a spokesman for the service, said before dawn Wednesday. "The one positive thing you can say is that we've got the firefighting forces in places."