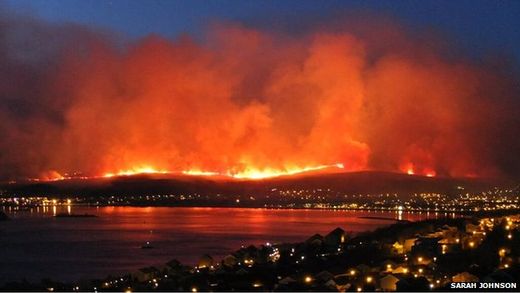 A helicopter has been deployed and fire crews remain on standby to guard properties as wildfires continue to burn across the Scottish Highlands.
Crews are holding a watching brief over a significant fire in the hills north of Gairloch, on the north-west coast, to ensure no properties are at risk.
A helicopter was sent to a significant fire in Kishorn, just north of Skye.
Five fire engines were also sent to prevent a fire spreading to a forest near Achmore.
Crews were also called to fires at Golspie, in the far north of Scotland, and on the Western Isles and Skye.
A large fire near Fort William, which local MP Charles Kennedy
described as unprecedented
, has been extinguished.
The blaze broke out between Corpach and Banavie on Monday.
At one point the fire stretched for a distance of about three miles, covering an area of 650 hectares.
Graham Robertson, from the Scottish Fire and Rescue Service, told BBC Scotland that at one point the fire had been heading towards properties but plans were in place to deal with this.
Fires in Morar, near Mallaig, and in Glenfinnan and Lochinver have also been brought under control.
A Scottish Fire and Rescue Service spokesman said: "Whilst much of the country has been affected by wintry conditions, the west coast of the Highlands, Skye and the Western Isles have experienced cold but unseasonably dry conditions which have been a factor in the number of wildfire incidents.
At one point the fire between Corpach and Banavie covered an area of three square miles
"Operational crews continue to work tirelessly under arduous conditions to bring these wildfires under control and ensure the safety of the local communities.
"This is testament to the commitment and professionalism of all staff of the Scottish Fire and Rescue Service in the Highland and Island areas, as well as ongoing support from landowners and members of the local communities."
He added: " A significant number of appliance movements have been required to attend these incidents, support crews and ensure regular relief is given to those fighting fires, which has been managed exceptionally by operations control in Inverness.
"We would again like to thank local employers who have released our retained and community response crew members to deal with the incidents and maintain the safety of our local communities."
Muir burning
Local councillor Bill Clarke told BBC Scotland
he had never seen such a dramatic fire
as the one near Fort William.
He said: "I couldn't believe my eyes. Over the years I have seen burnings on the Rannoch Moor and elsewhere but never have I seen or witnessed wildfire like the one I witnessed last night.
"It was ideal weather for burning, there's no doubt about that, but last night it looked completely out of control."
The fire service said the blaze involved thick heather and dead bracken.
Legal muir burning is also being carried out at the moment by hill farmers and landowners. Fires are deliberately set to burn off long grasses and heather to encourage new grazing for sheep and grouse.
Muir burning can take place between 1 October and 15 April and can be extended if permission is granted.