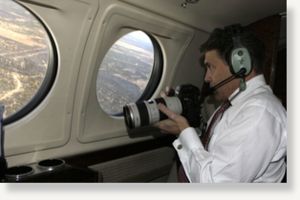 A day after losing one of their own, firefighters returned to the front lines Saturday to battle wildfires sweeping across hundreds of thousands of acres in Texas that have destroyed dozens of homes.
Strong winds and drought-stricken grasses and shrubs are fueling the fires that forced hundreds of evacuations, including an entire town, and destroyed at least 60 homes on Friday. Firefighters worked overnight as the blazes burned across about 655 sq. miles, according to the Texas Forest Service.
Some of the fires have been burning for a week or more, including three in West Texas that have charred a combined 400,000 acres.
Volunteer firefighter Gregory M. Simmons, 51, died while battling a 3,000-acre blaze Friday afternoon near Eastland, a town about 130 miles west of Dallas, Eastland Mayor Mark Pipkin said. Simmons had been a firefighter for two decades, including 11 years in Eastland, the mayor said.
"Apparently he was overcome by smoke, fell in a ditch and was consumed" by the fire, said Justice of the Peace James King, who pronounced Simmons dead at the scene along a rural road.
No other injuries have been reported.