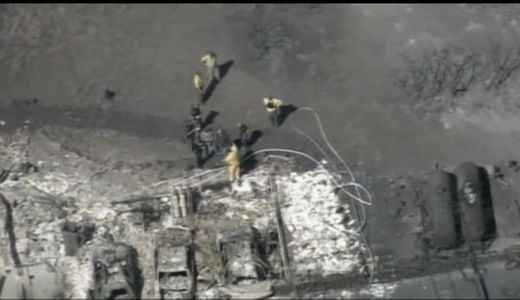 US: Conifer, Colorado - Firefighters were hoping to start containing at least part of a mountain wildfire Wednesday that forced hundreds of residents to flee, damaged 28 homes and may have caused the deaths of two people.
Strong gusts and erratic fire behavior forced crews to focus largely on protecting homes overnight instead of attacking the fire that broke out Monday, but more resources have been arriving.
The blaze is among the top in the nation for the priority to get firefighting resources, fire officials said late Tuesday.
Some 450 firefighters from Colorado, Idaho, Nevada and Utah were sent to assist 250 firefighters on the ground. Weather permitting, four aircraft were scheduled to drop retardant Wednesday on the 7-square-mile blaze that resulted in mandatory evacuations of 900 homes south of the commuter town of Conifer, about 25 miles southwest of downtown Denver.
Residents of 6,500 more homes were warned Tuesday to be ready to leave because of the fire's behavior. Many homes are in winding canyons, and authorities wanted to give citizens as much advance warning as possible.
Meanwhile, investigators are trying to determine whether the fire reignited from a controlled burn that was meant to reduce vegetation that could fuel a devastating blaze around homes and watersheds.