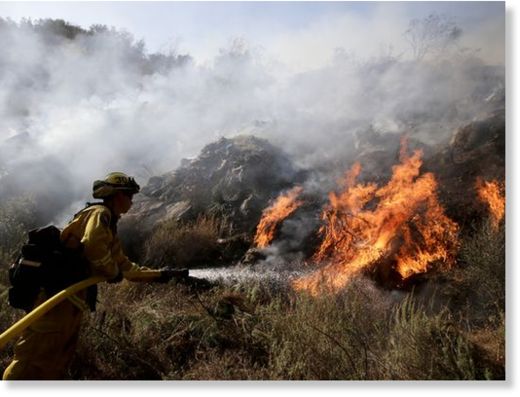 With record droughts fueling fears of devastating wildfires in the West, members of Congress from the region are trying to boost chronically underfunded federal fire prevention efforts.
Sen. Ron Wyden, D-Ore., has teamed up with Sen. Mike Crapo, R-Idaho, to offer a bill that would stop the vicious cycle of federal agencies raiding fire prevention funds to pay for emergency firefighting efforts.
The Wildfire Disaster Funding Act, which was also introduced in the House this month, would create a special disaster fund to fight huge "mega-fires", which make up about 1% of wildfires but use up 30% of fire suppression funds.
The funding change would free up as much as $412 million a year in the Forest Service and Interior Department budgets to prevent fires by thinning the overgrown tree stands and underbrush that fuel the blazes.
"What's happening now is the forest floor is getting hotter and hotter," Wyden said. "All it takes is a lightning strike and we've got an inferno on our hands. The federal government runs out of money fairly quickly to fight the fire, and they take money from the fire prevention funds to put the fire out. But then there is no money to prevent future fires. So the problem gets worse and worse."
During the past decade, wildfires have burned 57% more land than in the previous four decades.In addition, the fire season has expanded, and the average size of the fires has increased fivefold
. Experts attribute this to climate change, a buildup of hazardous fuels in the forests, and an increase in the number of people living near national forests and other federal land.
Since 2000, federal agencies have run out of money to fight large wildfires eight times, forcing them to take money from fire prevention funds.
Spending more money on fire prevention will cost taxpayers far less money than fighting fires, said Rep. Mike Simpson, R-Idaho, who is sponsoring the House version of the bill along with Rep. Kurt Schrader, D-Ore.
"It costs less, both in taxpayer dollars and in lost lives and property, to prevent wildfires before they start than to fight them once they are out of control," Simpson said. "Yet the way we currently budget for fire has created a devastating cycle of fire borrowing that is costing taxpayers and destroying our forests."
The legislation is supported by a diverse array of groups ranging from environmentalists to timber companies.
"Arizona in a decade has lost one quarter of our Ponderosa Pine forest to wildfires," said Patrick Graham, Arizona state director of The Nature Conservancy. "Time is of the essence to try to resolve these issues. Small fires are turning into huge, out-of-control fires because of the current forest conditions. The forests are overly dense and out of balance."
The timber industry agrees.
"We need an approach to fire suppression funding which lets Forest Service manage the forests, instead of constantly moving funding to emergency suppression needs," said Bill Imbergamo, executive director of the Federal Forest Resource Coalition, which represents companies that make products and energy from wood.
Despite widespread support for the bill, it will be a challenge getting members of Congress and their constituents from outside the West to pay attention to the issue, Wyden said.
"Most of the country sees these wildfires on TV, and they view it as Western issue," Wyden said. "What we're trying to convey is that this is a disaster issue. We've got a choice here. We can either step in and responsibly do the fire prevention work or we can all pay more if we don't."
Supporters of the bill say they will look for ways to advance the legislation through the budget and appropriations process in Congress while educating their colleagues on the specifics of the proposal.
Rep. Raúl Grijalva of Arizona, the senior Democrat on the House Natural Resources Subcommittee on Public Lands and Environmental Regulation, said he wants to read the details of the bill but likes the concept.
"The idea of a separate account to fight these big fires is tempting," he said. "When you have a wildfire in your state, you want it put out as fast as possible. They (federal officials) don't have much choice but to raid the prevention accounts to get it done. If we can come up with a way for them to put out the fires without using up the prevention money, I think that's a good idea."
Meanwhile, many of the bill's advocates are applauding some smaller fire prevention efforts that were tacked onto the massive farm bill that Congress passed this month.
The bill included most of the Catastrophic Wildfire Prevention Act, sponsored by Rep. Paul Gosar, R-Ariz. Among the provisions that were enacted were measures that would streamline the process to allow the Forest Service to thin tree stands in areas affected by bark beetle infestation and make it easier for the Forest Service and the Bureau of Land Management to enter into long-term stewardship contracts to hire companies to clear out underbrush and thin overgrown forests.
"Although we are never going to prevent all fires, this legislation will help make wildfires less frequent and less intense when they do occur," Gosar said.
The Nature Conservancy's Graham said the stewardship contracting provision is especially important because it encourages private companies to invest in forest health by going after contracts to thin forests and clear underbrush to help prevent fires.
"It gives them the certainty they need that they are going to make a return on their investment," Graham said. "It's not about coming in and clear-cutting forests and taking out big trees any more. Today, they're being asked to make a living off of carefully removing smaller-diameter trees. These contracts are really critical to forest health and fire prevention."