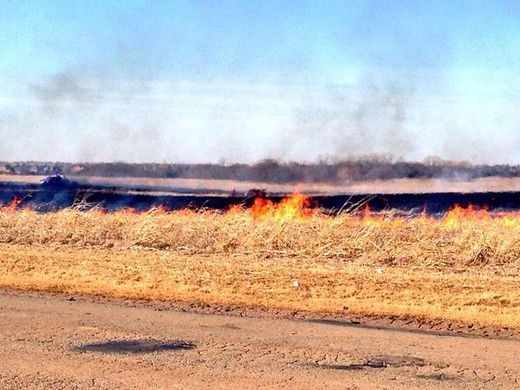 With winds gusting to 40 miles and hour Tuesday, it didn't take much for a Oklahoma City wildfire to get big, fast.
Firefighters say the fire started along 192nd between May and Penn and moved fast toward a nearby neighborhood.
Tim Branch saw the fire over his fence and got to work, doing whatever he could to stop the flames.
"I just don't want my house to catch on fire," he said, using a shovel to dig, creating a fire line. "If it was your house, you'd do the same thing, right?"
Firefighters soon appeared over the same fence, delayed by people on the roads who wouldn't get out of the way.
"We did have a pretty tense situation in the beginning when we were trying to get in here," said OKCFD battalion chief Brian Stanaland. "We were trying to evacuate personnel out here and the people that live here, and they weren't incredibly cooperative, so kind of got in the way a little bit."
That delay allowed flames to get close to several homes.
One home's fence was still on fire about a hour after most of the flames were extinguished. It was no match for the flames---that burned right through it, and right up to the back of the house.
But they kept going, burning the front yard as well.
Across the street, Trey Hall was trying to save his brother's home when he saw the flames.
"It was very black, and on the outskirts of it, were flames that had to be knee high," Hall said. "They were pretty tall, aggressive looking."
Hall turned the home's sprinkler system on, but while the flames got into yards on both sides of the house, it didn't burn anything of Hall's.
"I think someone upstairs was looking out for him."
While the flames were close, no homes in the neighborhood burned.
"Could've been a lot worse."