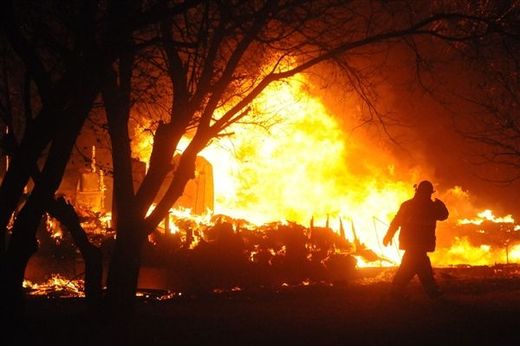 When a grassfire destroyed most of tiny Bucyrus, N.D., this week, the "perfect firestorm" of conditions served as a reminder that the long-term drought, combined with unpredictable winds, makes for severe fire danger across the central U.S., even in the middle of autumn.
Four homes and 20 other structures were lost after the fire broke out Wednesday afternoon. Fanned by winds up to 70 mph, it consumed at least 6,000 acres and traveled 10 miles by Thursday morning, The
Dickinson Press
reported.
"This is like a nightmare," Linda Wiskus told The
Dickinson Press
. "I wouldn't wish this on anyone. ... We had about 15 minutes to get what we could. I grabbed a safe, a pair of jeans and some socks - I didn't have time to get anything else."
The cause of the fire has yet to be determined, but Bucyrus is in a county that's been in continued drought since October 2011, Adnan Akyuz, North Dakota's state climatologist, told NBC News. Conditions got even worse starting Oct. 2.
"When you combine warm, dry and windy conditions, it creates a perfect setting for elevated fire danger," Akyuz noted. Adding drought to that mix, he said, "makes it more dangerous conditions for fire."