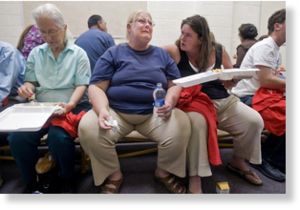 Authorities say a raging wildfire that could become the largest in Arizona history is now 5 percent contained after charring more than 386,000 acres and destroying 22 homes in Greer.
The Wallow Fire has burned more than 525 square miles in Eastern Arizona. But fire officials Thursday evening said they were optimistic some residents who have been forced to flee the flames would be allowed back home by the weekend.
Full evacuations were still in place for Eagar, Springerville, Sunrise, Greer, Blue River, Alpine, Nutrioso and many subdivisions. More than 5,000 residences are threatened by the massive fire, officials said.
Fire officials reported earlier Thursday that six homes were burned overnight in Greer. But crews finished touring the area and assessing the damage by late afternoon and said 22 homes in Greer were destroyed and five other homes were damaged.
Officials also say 24 outbuildings in Greer were destroyed along with one vehicle.
A total of 29 residences have been destroyed so far.