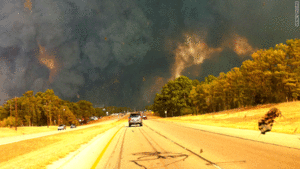 Strong winds whipped up several wildfires in central Texas Sunday, threatening homes and forcing some residents to evacuate.
The largest of the fires is in Bastrop County, southeast of Austin, said Lexi Maxwell, a spokeswoman with the Texas Forest Service. The blaze has so far scorched some 14,000 acres and is threatening about 1,000 homes, she said.
It forced parts of state highways 71 and 21 to shut and additional road closures are expected, Maxwell said.
Julian Ochoa, 23, was evacuated from a Bastrop subdivision Sunday afternoon. He said he grabbed his dog, a toothbrush, his birth certificate and a few pictures.