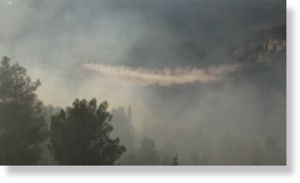 Firefighters are battling a large fire that broke out Sunday in the Jerusalem Forest and Mount Herzl area in the west of the city. The fire is approaching the Har Nof, Bayit Vagan neighborhoods and the Pi Glilot oil refinery.
Rescue teams have evacuated the Yad Vashem Holocaust memorial nearby. One worker suffered from smoke inhalation and was taken to the hospital.
The Fire Department spokesman said on Channel 10 that "large teams of firefighters have been deployed in the entire area, and curious onlookers should clear out. Firefighting planes are flying above us in an attempt to put out the fire."