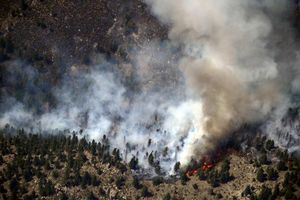 Laporte, Colorado - Firefighters attacking the complex High Park fire are using a century-old battle plan, bolstered by modern-day technologies.
Using picks and axes, wildland teams are methodically scratching barriers into the dirt and lighting back fires, while helicopters aided by satellite imagery drop water and tankers douse areas with chemical retardant.
They're trying to pin down the monster at an anchor point, building a line to flank in the beast and pinch off its head for total containment.
"If you go out and throw people all around it then it's wasted effort," said David Liebersbach, a former Type 1 incident commander and past director of Alaska's emergency services. "You find a point where you can anchor in. You work out from that in a continuous line so you don't have a chance blowing out."
But this fire, with its ever-shifting boundaries and multiple heads, isn't a textbook case.