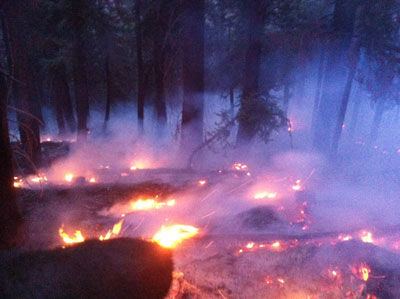 Firefighters have contained a small wildland fire that flared up north of Incline Village early Friday morning.
Firefighters with the cold mountains of California Fire Protection District first got a report of the fire around 2:30 am.
It was burning above the Allison Subdivision near Ralston Court and Jennifer Street.
Crews took more than an hour and a half to reach the fire's edge after hiking about a mile through thick and heavy vegetation.
And they got it contained pretty quickly, though it continued to put up smoke for a while afterward.
Firefighters say our drought conditions can mean fires can start even in January. "This is one of the driest water years on record, this is really unprecedented for this area. Hopefully we get some moisture soon," says John Washington of the U.S. Forest Service.
Firefighters urge campers to only light campfires in designated campgrounds, and say it's important for homeowners to create defensible space around their property.
No structures were threatened.
The U.S. Forest Service has taken command of this fire.
The cause remains under investigation. If anyone has information regarding this incident, call Assistant Fire Marshal, Mark Regan at 775-461-6200.