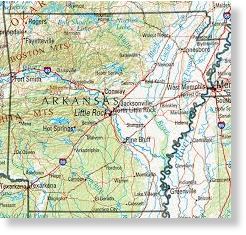 Forecasters say Arkansas is still at risk for wildfires despite chilly temperatures with subzero wind chill values in some areas.
A red flag warning is in effect in Carroll, Benton, Washington and Madison counties. The National Weather Service says northwest Arkansas will see strong and gusty winds of up to 35 mph on Friday, along with low humidity values of 15 to 25 percent.
Forecasters warn that the dry vegetation and windy weather will combine to create dangerous wildfire conditions through Friday afternoon.
Thirty-two Arkansas counties now have burn bans in effect, and the Arkansas Forestry Commission says much of the state is at a high risk of wildfire danger.