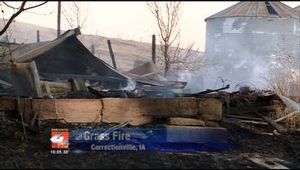 Windy weather helped fuel the flames of a wildfire late Wednesday afternoon.
Crews throughout Woodbury County helped put it out.
The fire broke out a few miles north of Correctionville, Iowa around three.
A section of grass caught on fire.. but the flames quickly spread to a house and a Morton building.
"The house was vacant, nobody lived here since 1989. The owner of the property who lives just a little ways away saw the smoke and was the one that initially called it in," says Jeff Hill, Correctionville Fire Chief.
The owner quickly called firefighters after discovering the grass fire.
Volunteers from Correctionville, Moville and Anthon rushed out to the scene.
But, by the time they arrived wind gusts had spread the fire to the house and outbuilding.
They were destroyed.