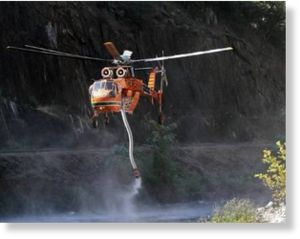 A rapidly moving wildfire grew on Saturday to about 3,600 acres west of one of the main entrances to Yosemite National Park, prompting voluntary evacuations of the Cedar Lodge hotel, campgrounds and a handful of homes in the Merced River canyon.
Highway 140 - a main entrance into Yosemite - remained closed west of the Foresta Bridge and east of Mariposa because of the fire. Fire officials said they do not know when it will be reopened. Highways 41 and 120 leading into the park were still open.
All park visitor services were unaffected by the fire, officials said.
The blaze, dubbed the Motor fire, was moving rapidly in Dry Gulch Canyon into the upper reaches of Moss Canyon, the U.S. Forest Service said. With containment at 15 percent, fire officials say it will take days to extinguish the blaze.
A motor home that caught fire on Highway 140 on Thursday afternoon sparked the blaze that raced up both sides of the canyon.