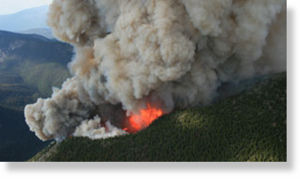 The number of wildfires roaring throughout British Columbia climbed to more than 400 on Tuesday, with officials predicting the tally will rise as the province is plagued by hot, dry conditions.
"We don't anticipate any significant decrease in fire activity in the coming days," fire information officer Gwen Eamer said in an interview. "We expect to continue to pick up in the range of 50 fires every day."
Eamer said 183 new wildfires were reported during the B.C. Day long weekend. Since the beginning of the year, more than 760 square kilometres of land has been damaged or destroyed by fire.