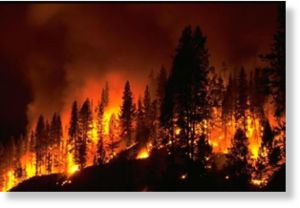 Seattle -
Fast-growing wildfires destroyed three homes in Washington state on Wednesday and threatened 350 more buildings as firefighters worked to keep the flames at bay and hundreds of residents prepared to evacuate.
The fires raging in Washington have charred 130,000 acres and the weather could make things worse, officials said. The fires were among a cluster of blazes raging in the U.S. West.
"Conditions look horrible," said Paul Perz, the state's assistant fire marshal. "We're anticipating that unstable conditions and winds in eastern Washington will fuel the fires."
The wildfires were sparked by thousands of weekend lightning strikes that ignited more than 150 fires on Monday. Six new fires started on Wednesday.
The most menacing of the blazes, located about 140 miles east of Seattle, has spread to 9,500 acres and is threatening about 125 homes. More than 700 residents have been urged to evacuate.
Although 620 firefighters were on the scene, little of the fire was contained, Perz said.
"Portions of the town are threatened," said John Kruse, Wenatchee police sergeant. "Right now, we're taking it 12 hours at a time."
The so-called Barker Canyon Complex fire in the Grand Coulee region in eastern Washington destroyed three homes and nine outbuildings on Wednesday, but was 20 percent contained, Perz said.