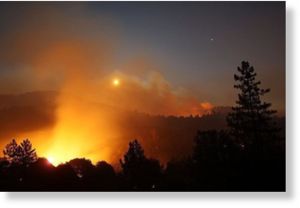 Wildfires whipped by high winds destroyed more than a third of a sizable town in northern Alberta and forced oil companies in Canada's largest energy-producing province to shut off tens of thousands of barrels of output on Monday.
Dozens of forest fires flared up across the province during a dry, gusty weekend, forcing the evacuation of several communities, including Slave Lake, a town of 10,000 people in northern Alberta known as a center for oil, gas and forestry.
Numerous homes and some public buildings had been razed in Slave Lake, Mayor Karina Pillay-Kinnee said.
She spoke to reporters from a command center in the town, about 200 km (125 miles) northwest of the provincial capital, Edmonton. It was deserted save for emergency personnel.
"You feel the intense heat, the sharp smell of smoke ... you see some areas still smoking and our fire-fighting crews are trying to contain any spot fires," Pillay-Kinnee said.
Two blazes, driven by winds gusting to 100 km per hour (60 miles per hour), converged on Slave Lake on Sunday. Complicating the situation on Monday were winds up to 50 km per hour (30 mph) in some regions as well as dry conditions.