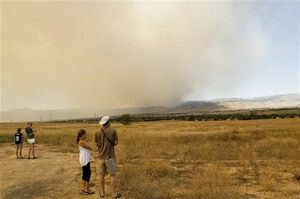 Boulder - David Myers knew it was time to leave when he looked out into the forest and spotted bright red flames towering skyward. Then came a blinding cloud of smoke and a deafening roar as the fire ripped through the wilderness.
"You can hear just this consumption of fuel, just crackling and burning. And the hardest thing is ... you couldn't see it because at the point the smoke was that thick," he said.
Myers was among about 3,500 people who desperately fled the fire after it erupted in a tinder-dry canyon northwest of Boulder on Monday and swallowed up dozens of homes. Residents packed everything they could into their cars and sped down narrow, winding roads to safety, encountering a vicious firestorm that melted the bumper of one couple's van.