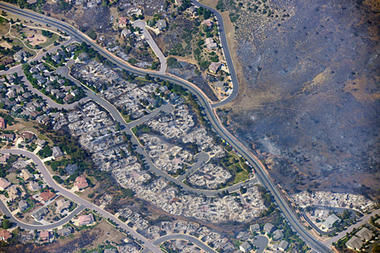 Waldo Canyon fire: No official reports on damage but the
Denver Post
says at least 300 homes were burned to the ground by the Waldo Canyon fire Wednesday in Colorado Springs.
Tens of thousands of
Colorado
residents forced from their homes by an out-of-control wildfire took refuge with friends or family and crammed into hotels and shelters as Army troops helped firefighters protect the
U.S. Air Force Academy
from the flames.
The blaze was raging early Thursday in the mountains and in Colorado's second-largest city, after more than 30,000 evacuees quickly packed up belongings and fled. The wildfire was one of many burning across the parched West that have destroyed structures and prompted evacuations in
Montana
and
Utah
.
The full scope of the fire remained unknown. So intense were the flames and so thick the smoke that rescue workers weren't able to tell residents which structures were destroyed and which ones were still standing.
Steve Cox
, a spokesman for Mayor Steve Bach, said at least dozens of homes had been consumed.
The
Denver Post
published an
aerial photograph
of the Mountain Shadows neighborhood in which some 300 homes, all of them inside the
Colorado Springs
city limits, were burned to the ground.
For tourists or anyone traveling to or from Colorado Springs over the next few days, Frontier and
United Airlines
have announced that they will waive change fees and have announced flexible policies due to the wildfires in the area,
reports the Denver Post
.
The White House
said
President Barack Obama
will tour fire-stricken areas of Colorado on Friday and thank firefighters battling some of the worst fires to hit the region in decades. Colorado is also considered a key battleground state in the presidential election in November.
Shifting winds have frustrated firefighters trying to contain the 29-square-mile (75-square-kilometer) Waldo Canyon blaze in Colorado Springs.
"It won't stay in the same place," said incident commander Rich Harvey.
Gov. John Hickenlooper
said he expected the president might sign a disaster declaration that would allow for more federal aid.
No injuries or damage to Air Force Academy campus structures were reported as the fire roared along its edge. An incoming class of more than 1,000 is still scheduled to arrive Thursday.
The
FBI
said it was investigating the cause of the fire.
Tom Harbour, director of fire and aviation management for the
U.S. Forest Service
, said there is competition for firefighting resources, including aircraft, throughout the West.
Harbour said resources are far from being exhausted.
"With over 10,000 firefighters in the Forest Service and the ability to get over 700 aircraft of all types, we're feeling cautiously confident when you look at the season as a whole," Harbour said.