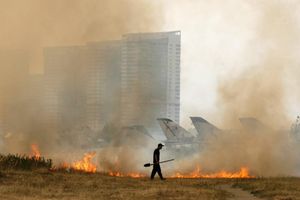 A record-breaking heat wave continued to send forest fires sweeping across parts of Russia today, destroying villages and leaving thousands homeless and up to 23 people dead, officials said.
More than 200,000 acres have been engulfed in the past few days, fueled by strong winds and a severe drought.
Moscow's temperature hit 100 degrees on Thursday, the highest since measurements began 130 years ago.
The city today faces severe thunderstorms.
In reaction to the anger expressed by villagers around the city of Nizhny Novgorod, Prime Minister Vladimir Putin canceled meetings in the capital and visited Verkhnava Vereva, some 300 miles east of Moscow.