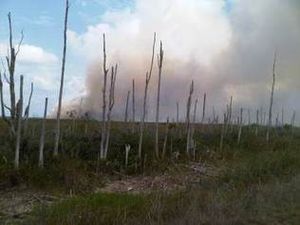 A massive brush fire that has been burning for nearly a week is almost extinguished thanks to some heavy rain.
Since last Sunday, fire crews have been trying to put out the brush fire, which consumed more than 58,000 acres in the Everglades. Krome Avenue, from Southwest Eighth Street to Okeechobee Road was blocked off as fire rescue crews battled the fire.
On Saturday, however, rainfall in the area extinguished the blaze, which officials believe was ignited by some people who were riding ATVs or dirt bikes in the dry grass. "Within an hour, Mother Nature can do what we couldn't do in six and a half days," said Scott Peterich of the Florida Division of Forestry.
Earlier in the week, flames from the fire were just feet away from a Miccosukee village on Tamiami Trail. The tribe's Medicine Man prayed for rain, and the rains came on Saturday. Peterich said, "Whatever works. We don't care. We're so dry down here in South Florida, we really need this rain."
Dan Herrera of Miami-Dade Fire Rescue said, "With the heat and the winds, any simple [thing like a] cigarette butt or an exhaust can really start something up like this and just have it go on for weeks."
Small pockets of flames still burn, but there are no longer any threats of evacuations for homeowners or businesses nearby. "On the eastern portion of Krome Avenue, we didn't get any rain at all, and we've got some muck that's burning in there, and it takes a lot of water to put that out," Peterich said.
However, officials warn the fire fight is not over until the flames are completely extinguished. "We don't leave a fire until it's what we call 100 percent mop-up," said Peterich. "You may see just little tiny puffs of smoke that might not appear to be much. Give it a couple days with these dry conditions and it'll reignite."
Fire officials are asking residents not to ride their ATVs in the area, since the area is still dry and the fire is not completely extinguished.