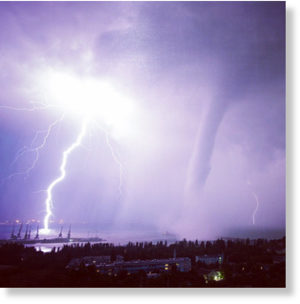 Large waterspout and lightning off Feodosia, Crimea peninsula, Russia. Sept 6th 2018.
Given that China was arguably the leading power in the world from c. 1100-1800, and was certainly the leading power in the East Asian region, one would anticipate that the smaller powers in that region would have balanced against it. But this in fact did not happen. The reply might be in turn that this was because China was the kingpin within the international tribute system, and was therefore an imperialist power. But arguably this system was neither imperialist nor could it be explained through the 'conventional practices' associated with Western great power politics.
- John M. Hobson
Recent Comments
He said: look at this hellhole..... I'ts not worth it anymore.
---
GE was making PCBs in the '50s when 'Pyranol' was their big thing. Here's a Google [Link] on that sh*t show and here's a [Link] to 'The General...
---
Long before Putin and Trump arrived on the Scene, The Kansas City Times published this Vision of the Future September 13, 1976. "He came to town...
---
perfect landing for the cute coon +1
---
so, thats why cia moved the isis leaders out of deir ez-zor?