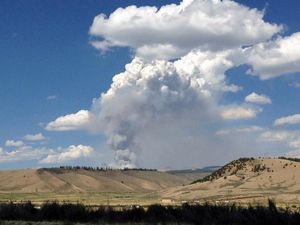 A ninth wildfire began burning near Leadville on Saturday afternoon.
The Treasure Fire has burned 20 acres near Fremont Pass, between Leadville and Copper Mountain Resort.
According to Keith McMillan of Red, White and Blue Fire Department, the wildfire is burning in forest land on the west side of State Highway 91.
The Colorado Department of Transportation said the shoulders of Highway 91 are closed in the area and smoke is visible from the roadway.
Kirstin Ayres of the Leadville Colorado & Southern Railroad said the railroad will not be running on Sunday. The tourist railroad runs from Leadville up to Fremont Pass.
Concern For Falling Ash
McMillan said fire crews are patrolling the area around Quandary Peak in Summit County. Residents have begun seeing falling ash crossing over the Mosquito Range mountains and into the eastern side.McMillan said with the high fire conditions, there is a concern the ash could ignite new wildfires.