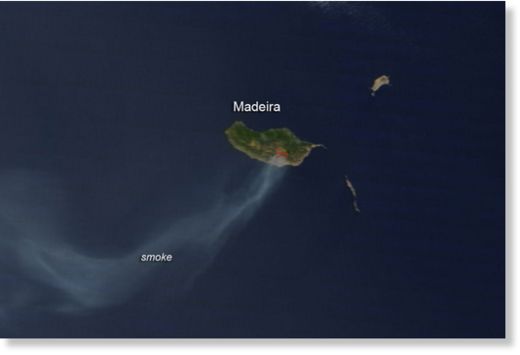 Fires have been burning out of control on the Portuguese island of Madeira. The fire that broke out in the early hours of the morning on August 16, 2013 above the village of Monte became stronger towards noontime as intense heat and the wind made the flames spread.
News outlets have been reporting that up to eleven houses were destroyed over the weekend. Firefighters have been battling to control the flames which reached the outskirts of the capital Funchal by Friday night. The hospital in Funchal had to be evacuated, according to reports. The original fires are reported to be largely extinguished, but another has been causing concern after rekindling last night in Barreira, above Santo António. Properties have been threatened and residents evacuated. Stronger winds were apparently to blame. An accident involving an Army vehicle and resulting in one dead and three injured firefighting personnel has been reported.
NASA's Aqua satellite collected this natural-color image with the Moderate Resolution Imaging Spectroradiometer, MODIS, instrument. Actively burning areas, detected by MODIS's thermal bands, are outlined in red.