A raging California wildfire has grown to 200 square miles and is so large and burning with such force that it is creating its own weather patterns, making it hard to predict where it will move, fire officials said Saturday night.
"As the smoke column builds up it breaks down and collapses inside of itself, sending downdrafts and gusts that can go in any direction,'' CalFire spokesman Daniel Berlant
told NBC Bay Area
. "There's a lot of potential for this one to continue to grow.''
More than 5,500 homes are threatened by the blaze, called the Rim Fire, and four were destroyed.
The fire, which was spreading into Yosemite National Park, was also threatening the San Francisco power grid.
"The wildfires that started in Tuolumne County have caused damage to electrical infrastructure serving the City and County of San Francisco, and now threaten damage to property, equipment, and resources of the San Francisco Public Utilities Commission and the San Francisco Recreation and Parks Department," Gov. Jerry Brown said in issuing an emergency proclamation for the city on Friday.
The so-called Rim Fire still remains 150 miles outside of San Francisco. However, Gov. Brown noted that he was concerned about additional damage to the city's water and electrical assets.
San Francisco gets approximately 85 percent of its water supply from the Yosemite-area Hetch reservoir, just east of the fire, but as of Saturday there had been no reported blackouts or disturbances in water delivery.
"The fire is projected to have little or no effect on water infrastructure like O'Shaughnessy Dam because these assets are made of concrete and steel," the Services of the San Francisco Public Utilities Commission said in a statement on its website.
"As of today, the Hetch Hetchy Regional Water System is still delivering 275 million gallons of water per day to Bay Area residents and businesses across four counties," the statement said.
As of Saturday afternoon, Gov. Brown had secured federal financial assistance to help ensure that resources will be available to continue fighting the fire.
"Current wildfire activity throughout the state has stretched our own resources, and those of our partners. This funding is critical to ensure local and state firefighters have the tools that they need to get the job done," said state Officer of Emergency Services Director Mark Ghilarducci said in a statement on Saturday.
"We must do all we can to assist those communities being impacted by the Rim Fire and the brave firefighters working to the blaze under control," Ghilarducci said in the statement.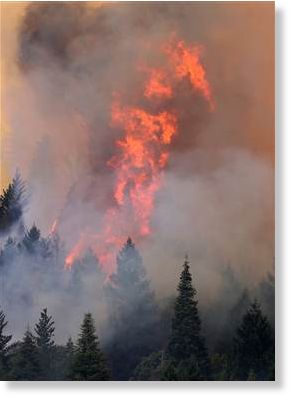 The Federal Emergency Management Agency [FEMA] funds will allow for a 75 percent federal cost-share reimbursement for the total firefighting costs. The remaining 25 percent will be left to local jurisdictions, according to a press release from Cal-EMA.
It was unknown on Saturday what final costs to douse the fire might add up to.
The fire, which started last week in the Stanislaus National Forest, had burned more than 125,620 acres as of Saturday morning, claiming 16 structures, including four homes, and causing one injury as it burned in Stanislaus National Forest, according to an incident report. The fire stood about five percent contained.
As of Friday, more than 2,100 responders worked to contain the fire from spreading, according to
NBC Bay Area
.
"It feels a little bit like a war zone, with helicopters flying overhead, bombers dropping retardant and 10 engine companies stationed on our street," Ken Codeglia, a retired Pine Mountain Lake resident who decided to stay to protect his house with his own hoses and fire retardant system, told the Associated Press. "But if the fire gets very hot and firefighters evacuate, I will run with them."
Officials issued a voluntary evacuation orders to the towns of Tuolumne City and Ponderosa Hills, Forest Service spokesman Jerry Snyder said on Friday. Those orders remained in flux on Saturday.
A mandatory evacuation order remained in effect for part of Pine Mountain Lake, a summer gated community a few miles from the fire.
While some surrounding highways have been closed due to the wildfire, Yosemite National Park remains open, according to the National Park Service website. However, the massive fire threatens the park's pristine beauty and has caused a hit to summer tourism.
"Usually during summer, it's swamped with tourists, you can't find parking downtown," local resident Christina Wilkinson told NBC News Bay Area. "Now, the streets are empty. All we see is firefighters, emergency personnel and fire trucks.''
Meanwhile, the Beaver Creek wildfire in Hailey, Idaho, was 75 percent contained Friday night and all evacuations had been lifted. Just over one thousand personnel remain assigned to the fire, but the number was expected to significantly decrease over the next few days, according to the report.