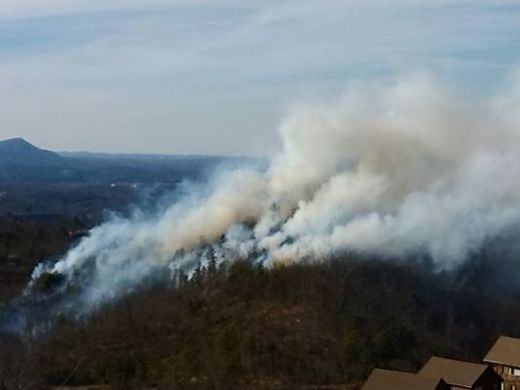 Heavy smoke took over parts of Pigeon Forge after a brush fire broke out near Dollywood on Sunday afternoon.
The wildfire threatened 11 cabins and four people were told to shelter in place because it was too risky for them to leave.
As of 6 p.m. Sunday, crews had the fire 80% contained and hoped to have it completely contained by the end of the night.
The Pigeon Forge Fire Department said the fire is located near Upper Middle Creek Road off of Walker Trail.
Crews first got the call around 2 p.m. and all other agencies in the county were called in around 2:15 p.m. to assist.
About 90 firefighters responded to the fire throughout the day. At least 10 firefighters will monitor hot spots throughout the night.
Many of the homes which are being threatened by the fire are rental cabins, so crews are having to check each one to see if anyone is there, according to a fire official.
He said Sunday's weather of high winds, low humidity and dry conditions likely contributed to the brush fire.
In Sevier County alone, crews were working four separate brush fires as of early Sunday afternoon.
Update Sunday 8:20 pm
A brush fire in Pigeon Forge which threatened several cabins on Sunday has been 100% contained, according to Pigeon Forge Fire Chief Tony Watson.
The fire affected about 50 acres of land.
As of Sunday evening, no injuries have been reported.
One cabin received minor damage.
According to Watson, wind was the biggest challenge for crews fighting the fire. For most of Sunday afternoon, firefighters dealt with wind gusts between 25-30 miles per hour.