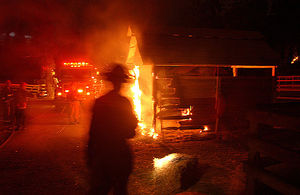 An out-of-control fire has swept across a peninsula in Flatanger, Norway, razing at least 140 buildings, in two villages, almost to the ground.
According to police, the fire started at around 10 p.m. on Monday night and was
caused when sparks flew from power lines
, jostled by the wind. The sparks caught the surrounding heather alight and with the strong wind, the flames swept almost instantly to the villages of Småværet and Hasvåg in northern Norway.
Johnny Olsen, spokesman for the local police told
VG newspaper
(in Norwegian), "It is very windy at the spot. The wind is blowing at 22 meters per second, which of course spreads the fire faster and makes it more difficult to put out."

Comment: According to other information, it is only speculation that the fire was caused by a spark from power lines.


The RS Harald V., a rescue boat sent to the villages, had problems getting close enough to the fire. The captain, Tor Helge Waagø, said, "Nobody can do anything," adding "If we go in to extinguish fires on Småværet, the boat will catch fire."
Reportedly there has been no rainfall in the area since December, but at the same time it has been icy cold and windy.
Marte Tronstad Dahl, a duty officer with the local police said that the fires are due to these freak weather conditions, telling
Aftenposten
(Norwegian language). "The result is that the heather and other vegetation has been freeze-dried and the flames have taken hold and spread explosively as a result."
20 residents in the areas around Småværet and Hasvåg were evacuated and transported to Drageid school camp, located nearby.
This is the second out-of-control blaze in Norway recently.
Digital Journal
reported on January 20 about the fire which destroyed several wooden houses in a heritage village in Lærdal and injured some 50 people.