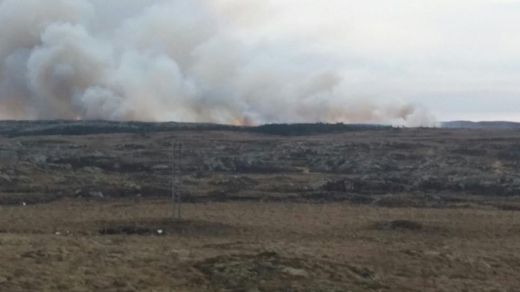 Translated by SOTT.net
A heath fire broke out on Freya in Sør-Trøndelag at 11am Wednesday morning. The wind is blowing strongly in the area, making the fire spread quickly.
It is now threatening buildings in the area, local fire chief André Lind told
Dagbladet
.
The fire started at Hammar Lake, and spread with the north wind. It's now approaching Mestervik Lake.
"We had hoped that the water would prevent the fire from spreading further. But it is impossible to say if it will happen," said Lind.
A helicopter has joined efforts to put it out. Two Bell helicopters from the Norwegian military is on the way and should be there any minute. The helicopters are coming from Flatanger Rygge, having worked to extinguish the fire in Sørnes Peninsula.
Winds are currently blowing fresh air on Freya, but a gale warning has been issued for Wednesday and Thursday.
Read the rest of this article here.