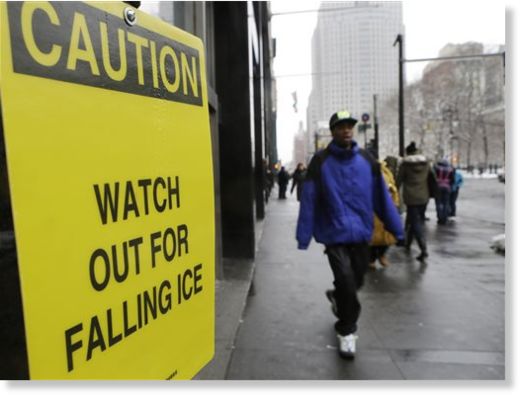 City dwellers battling one of the most brutal winters on record have been dealing with something far more dangerous than snow falling from the sky: ice tumbling from skyscrapers.
Streets around New York's new 1 World Trade Center, the nation's tallest building, were recently closed when sheets of ice were seen shearing from the face of the 1,776-foot structure - turning them into potentially deadly, 100-mph projectiles.
And sidewalks around high-rises in cities big and small have been cordoned off with yellow caution tape because of falling icicles and rock-hard chunks of frozen snow, a situation that experts warn could get worse over the next few days as a thaw sets in over much of the country.
"The snow starts to melt and the liquid drips off and makes bigger and bigger icicles, or chunks of ice that break off skyscrapers," said Joey Picca, a meteorologist at the National Weather Service in New York, which has had 48.5 inches of snow this winter and several cycles of freeze and thaw.
"Be very, very aware of your surroundings," he said. "If you see ice hanging from a building, find another route. Don't walk under hanging ice."