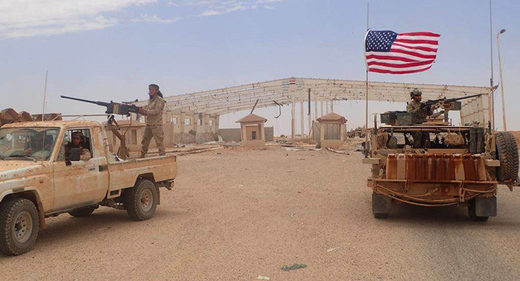 Last Thursday, US president Donald Trump posted what appeared to be a self-congratulatory tweet on the achievements of the US military in the war against ISIS:
These numbers may or may not be accurate, but the implicit message is that they are the result of the efforts of the US-led coalition rather than the combined Russian, Iranian/Hezbollah and Syrian/Iraqi forces.
Trump's Pentagon numbers conflate the operations against ISIS in
both
Syria and Iraq, thereby overwriting the more specific numbers produced by the
Russian military intervention in Syria alone
, which changed the tide of the war in
both
countries:
60,318 jihadists killed, including 813 commanders; the destruction of 718 clandestine arms factories; and the liberation of 1,024 cities and settlements.
In pursuing its goals of eliminating Western-backed jihadist mercenaries in Syria, Russian forces took extreme care to safeguard civilian lives and minimize damage to infrastructure. This was in stark contrast to US policy in both Syria and Iraq, which involved little if any attacks on ISIS forces in the field, concentrating instead on 'liberating' strategic cities like Mosul and Raqqa by way of massive and indiscriminate bombing (compare the painstaking
liberation of Aleppo with the flattening of Mosul)
. This difference in military strategy was, of course, to be expected given that Russia has a vested interest in maintaining Syria as a viable and independent nation state under Assad, while the US, from the very onset of the conflict, was interested only in the ruin of Syria and the overthrow of Assad.
While there is little hard evidence of the US real intentions in Syria, there have been many strong indications that supporting ISIS was (and still is) US policy, ranging from
providing
safe passage
to terrorist groups,
airlifting
their
senior members
, providing
air cover
against the Syrian Army,
delivering
weapons
, and even
an admission from
former Secretary of State John Kerry that the US allowed ISIS to grow as a way of putting pressure on Assad.
At the very least it is clear that the US preferred to see criminal groups of fanatics ruling Syria than a democratically-elected secular government such as Assad's, even if the extent to which it
actively
sought to 'make this a reality' can be disputed.
Strictly-speaking, Trump is correct that ISIS collapsed on his watch. But how much, if any, of that progress - with respect to Syria anyway - is due to US action in the country? The terrorist front in Syria disintegrated over the course of 2017 once the siege of Aleppo was ended by Syrian forces in December 2016, enabling them to begin methodically liberating the country from west to east.
That Trump was president-elect, then president, during this timeframe is coincidental, not causal. He may
wish
to see the scourge of ISIS gone from the face of the Earth, and win the US some of the glory in delivering its ignominious retreat, but since becoming president Trump has had ample opportunity to learn what US forces are really up to.
The day before Trump's tweet, Russia's Chief of General Staff Valeri Gerasimov
revealed
in an interview with
Komsomolskaya Pravda
that US forces had turned their illegitimate base in Al-Tanf, in the southeast of Syria and conveniently located within the 55 km 'de-confliction' buffer zone, into a training camp for the remnants of ISIS - a group which he
described
as a
de facto
regular army, given their weaponry, training and tactics.
"According to satellite and other surveillance data, terrorist squads are stationed there. They are effectively training there," Gerasimov said, when asked about what's going on at the base.

The general also said the US has been using a refugee camp in northeast Syria, outside the town of Al-Shaddadah in Al-Hasakah province, as a training camp for the remnants of the Islamic State (IS, formerly ISIS) terrorist group, including those evacuated from Raqqa, and other militants.

"This is essentially ISIS," Gerasimov said. "They change their colors, take different names - the 'New Syrian Army' and others. They are tasked with destabilizing the situation."
Gerasimov says that there are currently some 750 militants in Al-Shaddadah and 350 in Al-Tanf. We are left to wonder if those are the same 1,000 ISIS fighters that the Pentagon estimates are left in Syria, as per Trump's tweet.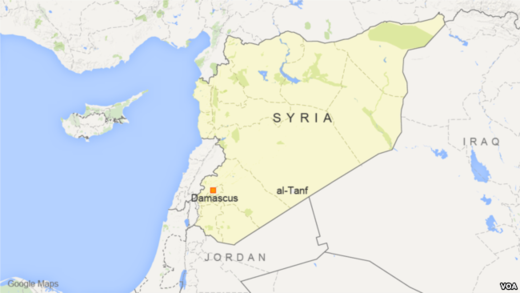 The New Syrian Army, aka the Revolutionary Commando Army, is,
according to the 'fact-checkers' at Wikipedia
, a "Syrian rebel group" consisting of army defectors and other 'rebels' who "sought to expel ISIS" from eastern Syria. They claim to have received training and weapons from Saudi-backed 'rebel' groups and the CIA.
But if their goal is to 'fight ISIS', why then does Gerasimov
report
that they have launched offensives on Syrian forces from the eastern bank of the Euphrates after ISIS militants were previously routed there?
In early October, Russian Defense Ministry Spokesman Major-General Igor Konashenkov
described
the US base in Al-Tanf as a "black hole" protected by a "human shield" of refugees from where ISIS carried out sabotage and terror attacks. He pointed out:
"The Pentagon's representatives have repeatedly stated that instructors from the US, the UK and Norway staying there under the cover of tactical aviation and multiple-launch rocket systems are training New Syrian Army militants. However, in actual fact, al-Tanf has turned into a 100-kilometer 'black hole' on the Syrian-Jordanian state border. Instead of the New Syrian Army, mobile ISIL groups, like a jack-in-the-box, carry out sabotage and terrorist attacks against Syrian troops and civilians from there."
Konashenkov added that the illegal US base in Al-Tanf was publicly justified "by the need to conduct operations against ISIL"; however,
no public information has been received of any US operations against ISIS during the six months of its existence
. Indeed, the Pentagon and Trump can make all the claims they want about 'fighting ISIS' in Syria, but in stark contrast with the Russians, who publish videos, satellite images, war maps, and send journalists to front lines, the Americans have almost no documentary evidence to show for it.
Just yesterday, local residents
told Syrian media
that
US helicopters evacuated ISIS commanders from several districts of Deir ez-Zor province. Earlier this week, the Syrian government sent a communiqué to the United Nations accusing the US-led coalition of dealing and coordinating with ISIS.
Significantly, on the same day as the publication of Gerasimov's interview,
militants shot
"several missiles" from Bdama at Latakia International Airport and the Russian Aerospace Forces' deployment site at Hmeymim airbase. No damage was caused as two of the missiles were shot down and at least one landed off-site. While Russian Foreign Ministry spokeswoman Maria Zakharova speculated that the provocation was "
aimed at disrupting the positive trends in the development of the situation in Syria and, in particular, at creating obstacles to convening and holding the Syrian National Dialogue Congress in Sochi on January 29-3
0," it is also possible that this heralds an attempt to bring ISIS back from the dead - either under that name or a different one. Perhaps it was just a coincidence, but the explosion at a supermarket in St. Petersburg which
injured thirteen people
- an event Putin described as a terrorist attack - also occurred on the same day. Is someone sending Russia a message?
Imperial Wishful Thinking
The
New York Times
published an
op-ed article
written by Secretary of State Rex Tillerson - also that same day - which summarized current US foreign policy positions with respect to North Korea, Syria, Ukraine, Russia, China and Iran. What Tillerson wrote about Syria was in line with Trump's triumphant tweet:
Defeating terrorism remains one of the president's highest priorities. The administration's aggressive strategy to counter the Islamic State delegates greater authority to American military commanders on the battlefield, giving our forces more freedom and speed to do what they do best, in partnership with indigenous fighting forces. As a result, the Global Coalition to Defeat ISIS has accelerated operations and has recaptured virtually all of previously-held Islamic State territory in Iraq and Syria. While our military was helping clear Iraq and Syria of Islamic State forces, our diplomats were following up with humanitarian aid and assistance, such as clearing land mines, restoring water and power, and getting children back in school.
Tillerson is naturally counting on the fact that Western audiences almost exclusively consume the narrative Western media tells them - that the US was fighting ISIS instead of aiding them. It's a great story, one anyone would want to own, but it's not the US' to tell. The US has
not
been clearing land mines, providing humanitarian aid, restoring water and power and getting children back to school:
Russia has
.
Despite
earlier reports
that the White House had finally accepted he would stay in power until, at least, Syria's next-scheduled elections in 2021, Tillerson went on to recite the litany of Russian Evils before segueing into a resurrection of the "Assad must go" mantra:
On Russia, we have no illusions about the regime we are dealing with. The United States today has a poor relationship with a resurgent Russia that has invaded its neighbors Georgia and Ukraine in the last decade and undermined the sovereignty of Western nations by meddling in our election and others'. The appointment of Kurt Volker, a former NATO ambassador, as special representative for Ukraine reflects our commitment to restoring the country's sovereignty and territorial integrity. Absent a peaceful resolution of the Ukraine situation, which must begin with Russia's adherence to the Minsk agreements, there cannot be business as usual with Russia.

While we are on guard against Russian aggression, we recognize the need to work with Russia where mutual interests intersect. Nowhere is that more evident than in Syria. Now that President Vladimir Putin has committed to the United Nations-backed Geneva political process for providing a new future for Syria, we expect Russia to follow through. We are confident that the fulfillment of these talks will produce a Syria that is free of Bashar al-Assad and his family.
Aside from the fact that there was no Russian aggression in
Georgia
or
Ukraine
, nor any
evidence of election-meddling
in the US or elsewhere, and that it is
Kiev which regularly violates
the Minsk agreements, it's interesting that Tillerson sneaked in that threat to Assad: "
This is not over!
" If you read Tillerson's entire
NYT op-ed
, see how many veiled or open threats you can spot. If this tone is anything to go by, 2018 doesn't look promising as far as conflict-resolution goes.
However, we can perhaps take solace in the knowledge that the US has failed, especially in Syria, and there is no reason they should succeed in the future if tried again. As the popular saying goes: