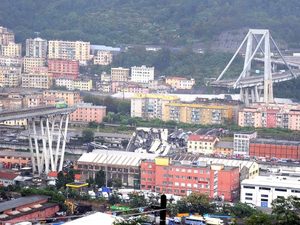 14 August 2018: Morandi Bridge in Genoa, Italy, collapses during a storm, killing 35 people
If the doors of perception were cleansed, everything would appear to man as it is, Infinite. For man has closed himself up, till he sees all things thro' narrow chinks of his cavern.

'The Marriage of Heaven and Hell'
- William Blake
Recent Comments
Wow what a lady is Dr Stephanie - should be President but sadly they only use those with the very lowest cerebral capacity in that role. May she...
---
Yawn .... more fake stories to back up the fake 'space' program - aint nothin' up there folks.
---
The effects of polyethylene wrap on people is not being considered. Plants stop growing and begin converting from growth to sugar and fat storage,...
---
Just a minor example: Yugoslavia had the most amazing, high quality canned meat pate I ever ate in my child life in Communist East-Europe. It was...
---
Imagining myself in Miss Jane Marple's mind on this occasion, she might suggest that some official in the NHS was not too keen to get involved in...