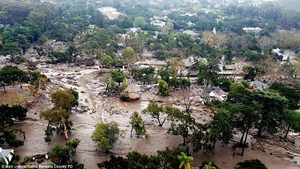 9 January 2018: Mudflows cause at least 20 deaths in Montecito, California
People convince themselves of their own lies, becoming victims of their own inventions as they begin to direct their lives by standards of behavior, ideas, feelings, or instincts which do not correspond to their inner reality. What is truly serious in this matter is that the individual loses all points of reference regarding what comprises truth, and what comprises lies. He becomes used to considering as true only that which is convenient for his personal interests; everything that is in opposition to his self-esteem or in conflict with already established prejudices, he considers false.
- John Baines
Recent Comments
Why doesn't Lockheed, General Dynamics, Rayethon and other defense contractors subcontract their design work to the Russian design bureaus. If...
---
Israel will switch allegiances in a heartbeat, as soon as they see profit in it.
---
But but but, what about global warming?
---
New Zealand is one of the most most seismically prolific areas in the pacific ring of fire...
---
D'OH....its making everyone dumber, kids are more susceptible because they are still growing/evolving...