About apeguia
Name: Andrés Perezalonso

Andrés Perezalonso has been a contributing editor for Signs of the Times in both its English and Spanish versions since 2007. He holds a PhD in Politics, an MA in International Studies, a first degree in Communication, and has a professional background in Media Analysis. He thinks that understanding world events is not unlike detective work - paying attention to often ignored details and connections, and thinking outside of the box. He was born and raised in Mexico and currently resides in Europe.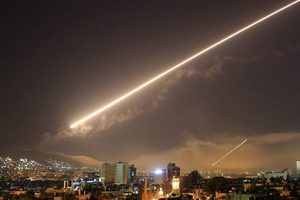 Syrian air defense systems protecting Damascus - the oldest continuously-inhabited city on Earth - from Western airstrikes, 14 April 2018
In the Truth there is no news, and in the News there is no truth
- Popular Russian saying under Soviet Communism
Recent Comments
Interesting interview/talk with Engdahl's. There are other authors who could aid on some of the things he has said regarding this Russian economic...
---
I imagine that there will be a great flurry of activity at those self storage [Link] warehouses after the big pow-wow between Trump and Putin now....
---
Handshakes are all-important in France. Two guys show up for work next to each other, they shake hands. Lunch time, they shake hands again before...
---
" But as he reached his peak in 2015, Mancini suddenly began to suffer delusions. He imagined the government was spying on him, that members of...
---
Hey MI5, if you have some decent folks left.. Last chance! Throw out the psychopaths or go down with them!