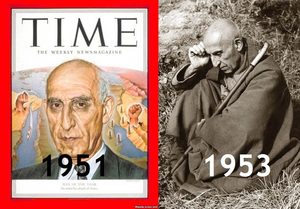 Mohammad Mossadegh, TIME Man of the Year, 1951 after he became the first democratically-elected PM of Iran. On 20 August 1953, he was overthrown in a CIA-MI6 coup and lived out his life under house arrest
Those who are able to see beyond the shadows and lies of their culture will never be understood, let alone believed, by the masses.
- Plato
Recent Comments
Sure is interesting. The hatchet job they have been doing on Trump hasn't quite succeeded as of now. The 'deep state' probably consider...
---
I reckon this consistently pro-Palestinian stance by successive Swedish governments contributed considerably to its 'no-go zones' problem.
---
What changed his politics so much were his conflicts with the military and the lords of the intelligence community. He had only been president a...
---
The Investigative Journalist no longer exists. Media gets its stories through news wire services like AP which are globalist mouthpieces....
---
when the Soviet Union dissolved in 1991 I don't think anyone could have guessed that just over two decades later we would be once again talking...