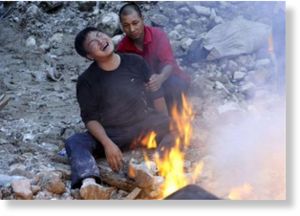 At least 38 people are reported missing in a new landslide Saturday in China's flood-ravaged Sichuan province, as the nation observes a day of mourning for victims of last week's massive landslide in the northwest.
The State Council ordered flags throughout China and at all Chinese embassies lowered to half-staff Sunday to honor 1,239 people killed in Gansu province. The official announcement said public entertainment, including all games, music shows and movies, should be suspended on Sunday.
Authorities said more than 500 people are still missing in the northwestern province. Soldiers are working around the clock to clear debris from Gansu's Bailong River, to reduce the chance of further flooding with any new rainfall.