Floods
---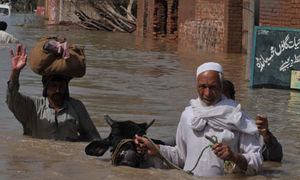 Access blocked to areas in Khyber-Pakhtoonkhwa as authorities try to rescue 27,000 people trapped after heavy rains
The death toll from floods in north-west Pakistan has risen to 1,100 people, an official said today.
Adnan Khan, a disaster management official, said the toll could rise further, as there were areas in Khyber-Pakhtoonkhwa province that rescue workers had not been able to access.
Authorities are struggling to save more than 27,000 people still trapped by flooding after heavy monsoon rains. Khan said more than 20,000 people had been rescued so far.
Efforts have been aided by an easing of the rains, but as flood waters recede authorities are seeing the full scale of the disaster.
"Aerial monitoring is being conducted, and it has shown that whole villages have washed away, animals have drowned and grain storages have washed away," said Latifur Rehman, a spokesman for the Provincial Disaster Management Authority.
"The destruction is massive and devastating."
---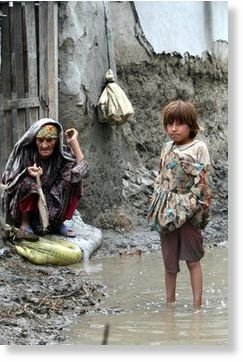 Flooding in Pakistan has killed more than 800 people in a week, a government official said Saturday as rescuers struggled to reach marooned victims and some evacuees showed signs of fever, diarrhea and other waterborne diseases.
The flooding caused by record-breaking rainfalls caused massive destruction in the past week, especially in the northwest province, where officials said it was the worst deluge since 1929. The U.N. estimated Saturday that some 1 million people nationwide were affected by the disaster, though it didn't specify exactly what that meant.
The information minister for the northwest province, Mian Iftikhar Hussain, said reports coming in from various districts across the northwest showed that more than 800 people had died due to the flooding. Many people remain missing.
Floodwaters were receding in the northwest, officials said, but fresh rains were expected to lash other parts of the country in the coming days.
---
Rob Crilly and Ashfaq Yusufzai
The Telegraph
Thu, 29 Jul 2010 11:01 UTC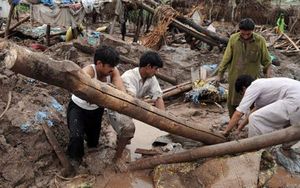 At least 100 people have been killed by rivers bursting their banks in north-west Pakistan as the country was hit by its worst floods for 80 years.
Floodwater destroyed a dam and washed away countless bridges in Khyber-Pakhtunkhwa Province, leaving an estimated 400,000 people stranded, after two days of monsoon rains.
Mian Iftikhar Hussain, the regional information minister, said the deluge made it difficult to reach people in need of shelter and clean drinking water.
"A rescue operation using helicopters cannot be conducted due to the bad weather, while there are only 48 rescue boats available for rescue," he said.
The province's deputy health director, Ali Khan, added that he feared there may be as many as 500 casualties. Medical workers had launched a programmed to immunise people against cholera and typhoid, he said.
Ten of the victims died when their homes collapsed in the provincial capital Peshawar.
---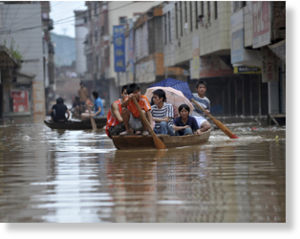 More than 30,000 people are thought to be trapped by floodwaters in a town in northeast China, state media said Wednesday, as torrential rain that has killed over 300 in two weeks continues.
China is struggling with its worst flooding in a decade tat has left 1,405 dead or missing since the beginning of the year and caused at least 26 billion dollars in damage, and authorities have warned of more to come.
In the central city of Wuhan, tens of thousands of people have been evacuated as authorities brace for flood crests from the Yangtze River and one of its tributaries to converge there.
More than 200 rescue workers have been sent to northeastern Jilin province's Kouqian town to reach 30,000 residents thought to be trapped after a nearby reservoir overflowed, the official Xinhua news agency said.
The local train station was also surrounded by water with over 80 people trapped inside, it said.
---
Chi-Chi Zhang
MSNBC
Tue, 27 Jul 2010 13:24 UTC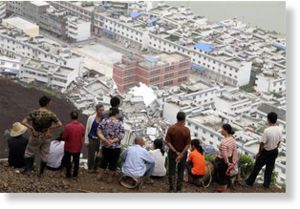 Worst rainy season in a decade has already killed hundreds
A landslide caused by rains in southern China left 21 people missing Tuesday, adding to a growing death toll from
China's worst flood season in a decade, which is expected to worsen with heavy rains forecast across the country.
Rescuers searched for 21 people missing after a landslide in Hanyuan County in China's southern province of Sichuan on Tuesday morning, the official Xinhua News Agency reported. Rocks and mud buried 58 homes and about 4,000 villagers were evacuated from their homes.
---
James Kelleher
Reuters
Sun, 25 Jul 2010 12:31 UTC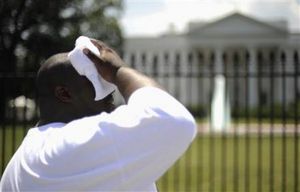 Large parts of the United States faced another day of extreme weather on Sunday, with temperatures in the capital and on the Southeast coast forecast to be near or above 100 degrees F (38 degrees C) and more storms likely in the mid-Atlantic and Ohio Valley regions.
"It's going to be another steamy day in the Southeast with thunderstorms to the north," AccuWeather said on its website.
Powerful thunderstorms will stretch from the Delaware, Maryland and Virginia region on the Atlantic Coast into Kentucky, Accuweather said.
In Milwaukee, Wisconsin, where heavy rains shut the city's main airport on Thursday, local media reported the body of a 19-year-old man who disappeared as floodwaters peaked had been recovered from a creek.
---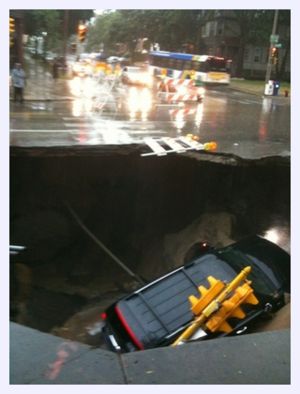 Stranded travelers weary from an overnight stay in a Milwaukee airport were hoping to be allowed to fly out Friday after powerful overnight storms pounded southeastern Wisconsin, halting flights and causing widespread flooding.
Storm water flooded the runways at Mitchell International Airport during the Thursday night storm. Airport officials said they hoped to clear away leftover debris and reopen the runways on Friday, but further disruptions were possible because of a new round of showers and thunderstorms that was expected to pass though the region.
Brian Kulpin, a spokesman for Reno-Tahoe International Airport, said he doesn't expect that the Milwaukee closure will affect air traffic in Reno.
---

Standing water on Chicago-area expressways turned what should have been an easy Saturday morning drive into a soggy, snarled mess after heavy rains across the Midwest closed roads, stranded residents and punched a hole through an Iowa dam.

In Chicago, officials say more than 7 inches of rain fell early Saturday, inundating the sewer system and overwhelming waterways. Water covered portions of several Chicago interstates and the commuter train tracks that run along them, leading crews to divert traffic and call in bus shuttles. Portions of Interstate 290 west of downtown were closed for several hours.

Chicago Mayor Richard Daley and other officials urged residents to call for help if they need it.
---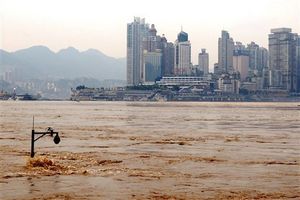 Typhoon Chanthu killed three people before weakening into a tropical storm Friday after making landfall in southern China's Guangdong province.
Winds of up to 78 miles per hour (126 kilometers per hour) knocked over a wall in Guangdong's Wuchuan city, killing two people, the official Xinhua News Agency reported.
Heavy flooding swept away a 50-year-old man in a village in Hong Kong late Thursday. Marine police said they found his body in open water Friday morning.
Chanthu has moved north to Nanning, the capital of the Guangxi region, and been downgraded to a tropical storm, the China Meteorological Administration said in a statement on its website.
The storm comes as China grapples with severe flooding that has left at least 742 people dead and 367 missing so far this year, the flood prevention agency said Friday. The death toll jumped by more than 40 Friday, but it was not clear if the increase was from new deaths this week.
---