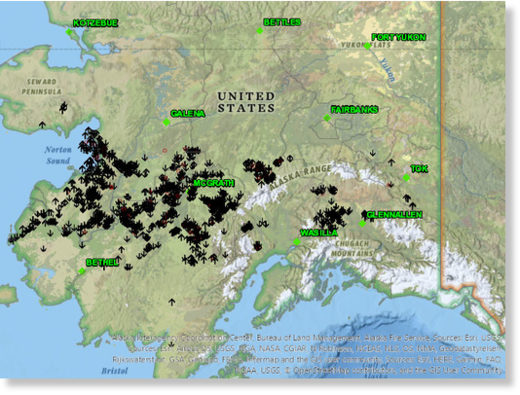 Firefighters and aircraft were are busy Sunday working on two lightning-caused fires burning within 25 miles of Unlakleet with more firefighters slated to joint the effort after lightning became a big factor in new fire starts in Alaska this weekend. Lightning is suspected of causing more than 15 new fires in Alaska this weekend.
There were approximately 1,858 recorded lightning strikes throughout the state Saturday with Sunday's tally at more than 2,900 by 8 p.m.
On Saturday, the lightning was scattered throughout a ribbon starting in the Yukon-Kukoskwim Delta north of Bethel stretching across through Central Interior with a cluster appearing north of the Mat-Su Valley. On Sunday, that area was expanded to the Canadian border as rain storms moved through the Fairbanks area in the afternoon.