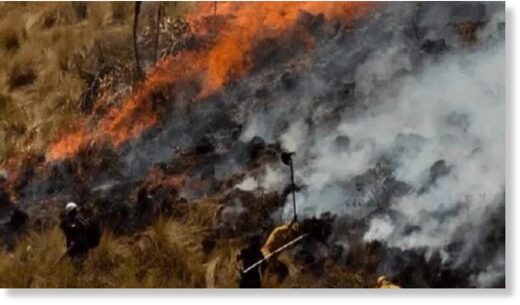 The death toll in the forest fire raging in the southern Peruvian department of Apurimac has risen to five following the discovery of two new bodies, according to the latest official toll.
The head of the Social Health Insurance (EsSalud) network in Aymaraes province, Augusto Maldonado, told national media that the bodies found by rescue units correspond to a villager identified as Juan Romero Ayquipa, 22, and Daniel Coicca Benítez, 63.
Maldonado added that five of the six injured who were hospitalized in the Chalhuanca emergency hospital have already been discharged. One remains hospitalized with minor burns, but with a favorable prognosis.
Previously, the National Emergency Operations Center (COEN) reported through the social network X, formerly Twitter, about "a third person dead due to the forest fire." The victim has been identified by local media as Merlina Salinas, and presented burns in 70 percent of her body. She was hospitalized at the Guillermo Díaz de la Vega Regional Hospital.
The first two fatalities were Julio Arbieto Callo, 55, and Percy Pérez Baldarrago, 45. The forest fire started last August 20 in the Ihuayllo Alto sector, Ihuayllo district, in the Apurimac province of Aymaraes.
According to the regional authority of Apurimac, the large fire has affected more than 200 hectares of natural cover in the district of Ihuayllo, as well as local livestock.
Firefighters, members of the National Police, serenazgos (municipal guards) and 30 Army personnel have arrived in the area to help extinguish the fire.
According to the General Directorate of Territorial Planning and Integral Management of Natural Resources of the Ministry of the Environment (Minam), 98 percent of forest fires in the country are caused by human action.
The main cause is the burning of agricultural waste.