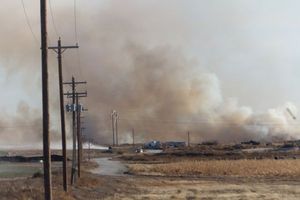 It appears that New Mexico may be in for a long and eventful fire season following a very early start.
Arlene Perea, the fire information officer with the Albuquerque Zone Type 3 Incident Management Team, says fire season doesn't usually start until late April or May.
But very dry conditions and strong winds are creating nearly ideal wildfire conditions.
"Probably the earliest I've ever been out is April," she adds. "We may have small fires, but we don't normally have anything that would cause a need to bring in a team to manage it."
Perea says a nearly 450 acre wildfire about 20 miles south of Albuquerque on the Isleta Pueblo began over the weekend, and as of Wednesday was at least 50 percent contained.