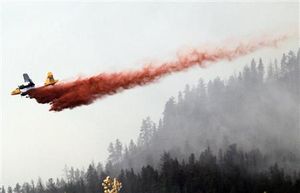 A deadly, stubborn wildfire that ranks as the most destructive on record for Colorado has scorched more than 100 square miles (259 square km) of rugged mountain terrain northwest of Denver, but a cool snap on Wednesday gave fire crews a chance to take the offensive.
The so-called High Park Fire already is blamed for one death and has consumed 189 homes in the 12 days since it was ignited by lightning at the edge of the Roosevelt National Forest, and authorities say they expect property losses to climb once more damage assessments are made.
As of Wednesday, an estimated 1,000 homes remained evacuated on the western outskirts of Fort Collins, a city of more 140,000 people that lies adjacent to the national forest about 55 miles north of Denver, according to Larimer County Sheriff's spokesman John Schulz.
The only casualty reported from the fire so far was a 62-year-old grandmother whose body was found last week in the ashes of a cabin where she lived alone. She was the fourth person to die in a Colorado wildfire this year.