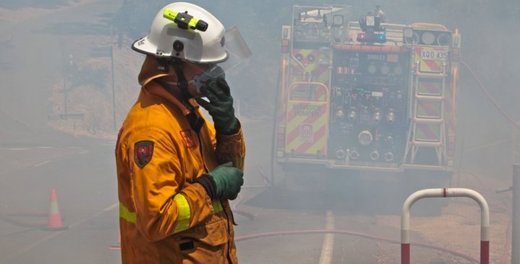 A clock frozen in time in the local bowls club destroyed by fire in the mid-north town of Wasleys in South Australia.
Firefighters spent yesterday searching burnt-out cars and homes after the blaze raged across a 40km front.
The Premier of South Australia, Jay Weatherill, took to Twitter to offer condolences to the families affected and thanked the hundreds of firefighters deployed in the area.
"We also know that
there have been extraordinary losses of livestock and wildlife
", the ABC quoted Weatherill as saying.
The South Australian deaths come after a blaze in the Esperence area of WA last week claimed the lives of three tourists and a local farmer.
"We can't be entirely sure we have identified every single person within the fire ground", Mr Weatherill said.
Country Fire Service chief office Greg Nettleton said crews had contained about 60 per cent of the fire perimeter which measured about 210 kilometres.
George Hooker has captured the moment he drove into a raging South Australian bushfire.
He said it was important that people in and around the fire zone didn't become complacent to avoid further deaths or injuries.
Meanwhile in NSW, a total fire ban is in place due to very hot conditions and a watch and act alert is now in place for a fire burning at Turlinjah in the state's south.
An expert on fire management at Melbourne University, Professor Kevin Tolhurst, said Australia was "one of the best prepared nations in the world for fires - but that is still pretty poor".
"There's been complete destruction of some of these vehicles".
"Until we get really substantial rainfall across the state, we're in a risky fire situation for the summer"
, he said.
"I cannot believe it, I still cannot fathom that she is gone", she said.
It was heading our way but it didn't get there.
Janet Hughes, 56, from Hamley Bridge also died as the fire swept across the lower northern region of the state, north of Adelaide, while 19 people have been injured.
That blaze, sparked by lightning around Esperance, 750km southeast of Perth, was finally brought under control late on Wednesday after
tearing through nearly 130,000ha of bush land and farmland.
Another 42 homes have been damaged while crop and stock losses are expected to be significant.