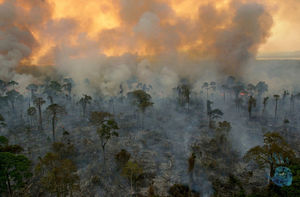 The fires follow months of extreme drought in the country's southern states, which experts say is caused by climate change and deforestation.
Brazil's central Amazonas region has registered at least 906 active forest fires due to severe drought in the region
, according to a new government report.
The Brazilian Institute for Space Research, known as INPE, reported Sunday that satellites had detected the fires, which account for over 59 percent of all active fires in Brazil.
The region most affected has been the northern state of Amazonas, the heart of the largest rainforest in the world. The region has already seen 11,114 forest fires since January of this year - a 47 percent rise compared to the same period last yea
r, said INPE.
The state capital Manaus has been wreathed in smoke, causing issues for those with respiratory diseases. The smoke has failed to disperse because of the lack of rain and winds in the region lately.
Researchers also reported that another 26.5 percent of actives fires were found in the agricultural region of Cerrado, which extends across the central states of Mato Grosso, Mato Grosso do Sul, Tocantins and Minas Gerais.
Brazil's southeastern states have also been suffering from extreme drought conditions this year, which put Sao Paulo - the country's second largest city - on evacuation watch back in February and forced several cities in the region to cancel carnival festivities due to low water reserves.
Experts have associated Brazil's worsening water crisis with both climate change and deforestation in the Amazon - two issues that drastically reduce the release of billions of liters of water into the atmosphere by rainforest trees, reducing rainfall in the south.
Researchers hope the dryness in Amazonas will end this month, since Brazil's rainy season generally begins in October.