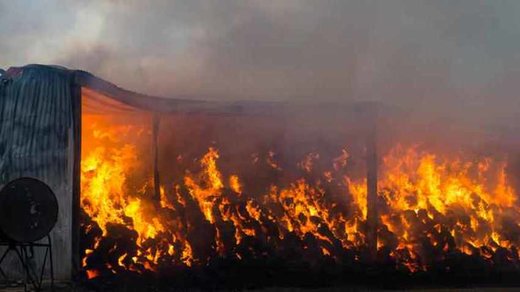 A "fast-moving and dangerous" bush fire leaves two people dead, with thousands of animals thought to have been burned alive.
Firefighters are battling to control a major wildfire in southern Australia which has killed two people and thousands of livestock.
Around 200 firefighters and several aircraft have reportedly been deployed to try and control the blaze, which is burning across a 27-mile front near Adelaide.
One person died in a paddock while a second died in a car, Australian media reported.
At least three people who were helping fight the fire have been taken to hospital with severe burns, the ABC said.
An employee at one of the state's largest pig farms told the broadcaster staff were forced to leave thousands of animals for dead as the blaze approached.
"It was pretty scary seeing it coming over the hill coming towards work," he said.
"We were there with firefighters ready to fight it and we just turned and ran. It was big. I think my work's gone or at least the majority of it."
As many as 9,000 pigs are thought to have burned alive,
ABC reported.
The fire, which has been fanned by high winds, is feared to be heading towards Australia's Barossa Valley wine-growing region.
"It's a particularly fast-moving and very dangerous fire," South Australian Country Fire Service chief Greg Nettleton told reporters.
"The crews are working as hard as they can to protect communities and property.
"The wind change that has gone through is expected to abate a little bit around about 9 o'clock tonight and hopefully we'll be able to get the upper hand on that fire into the evening. But certainly it's far, far from being controlled."
Home and cars in the area have been destroyed and power has been cut off to thousands of buildings.
The blaze comes after four people were killed in one of a series of wildfires sparked by lightning in Western Australia last week.
Bushfires are extremely common in Australia in the summer months, however, some scientists have warned the length and intensity of the fire season many increase as climate change causes temperatures to rise.