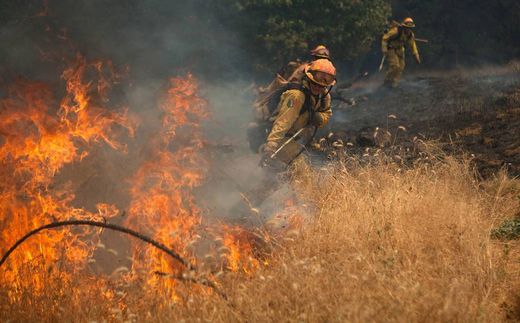 Two wildfires in northern California destroyed 13 homes on the weekend, while one man died after being struck by lightning in the south of the state
Wildfire has ravaged the drought-stricken region of northern California obliterating 13 homes and forcing the evacuation of hundreds on the same weekend that thunderstorms and freak lightning swept through the south of the state killing one.
As many as 1,900 fire personnel are battling a raging blaze in the Sierra Navada foothills amid a dangerous combination of high winds and temperatures above 38C.
The sand fire has burned through roughly 3,800 acres or six square miles since it started on Friday, but still threatens at least 515 properties, the California Department of Forestry and Fire Protection (Cal Fire) says.
It is now 50 per cent contained
- with a fire-fighter sustaining minor injuries - as it continues to rip through the border of Amador and El Dorado counties, five miles north of the city of Plymouth.
Authorities have listed its cause as "vehicle into dry vegetation," leading to a blaze that has also resulted in the destruction of 38 outbuildings.