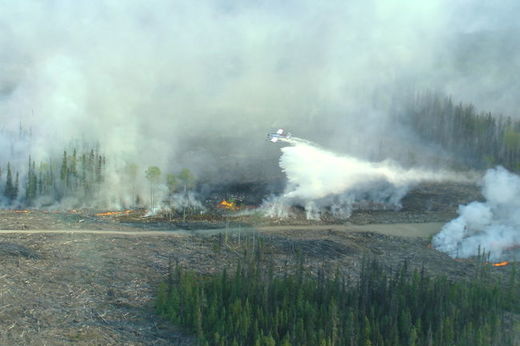 Crews are responding to five new wildfires in British Columbia's Central Interior, as a massive blaze continues to burn about 70 kilometres southwest of Prince George.
B.C.'s Wildfire Management Branch says all of the new fires were sparked by Friday's lightning activity in the Cariboo region.
The largest fire is raging four hectares west of Anahim Lake, where a three-person attack crew, airtankers and a helicopter are on site with 16 additional firefighters on the way.
The branch says crews are also working on three small fires in the Big Bar area and one small fire southwest of Quesnel.
Meanwhile, the aggressive Little Bobtail Lake blaze has destroyed about 17,000 hectares since it was first discovered last Saturday.
Some 240 firefighters, 11 helicopters, eight air tankers and 23 pieces of heavy machinery have been brought in and 20 per cent of the fire has been contained.
Jill Kelsh with the Prince George Fire Centre says crews have been working around the clock since last Sunday.