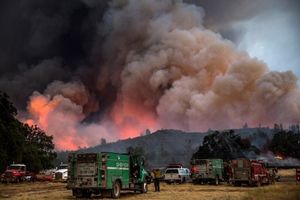 A rapidly growing wildfire burned largely unchecked in Northern California's ranch country on Friday after destroying three homes and forcing hundreds of people to flee.
The blaze, which has nearly doubled in size from late Thursday morning to scorch some 15,000 acres (60 square km) of California's rural Lake County, was
one of 18 large fires under attack by 8,000 firefighters statewide
, forestry authorities said.
About 500 people were ordered to evacuate, with emergency shelters opened for the evacuees and facilities set up to hold their livestock, officials said.
The California Department of Forestry and Fire Protection said the blaze was fueled by strong winds and grew quickly during its first 12 hours, devouring three homes and numerous outbuildings.