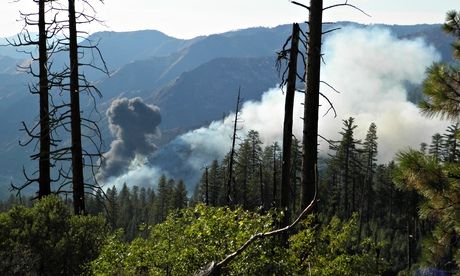 An air tanker plane being used to fight a wildfire in Yosemite national park has crashed, killing the pilot, officials for the park and the California forestry and fire department have said.
Emergency workers reached the crash site near the Dog Rock fire on Tuesday evening and found the pilot had been killed, authorities announced. The pilot was yet to be named.
Witnesses saw the plane slam into the wall of a cliff above Highway 140 near the Arch Rock entrance to Yosemite on the western edge of the park "and yes, there was a lot of fire", park spokeswoman Kari Cobb said.
She said crews were just reaching the site of the wreckage several hours after the accident. There was no word on what caused the crash.
Alyssa Smith, of the California fire service, said the pilot was the only person on board at the time.