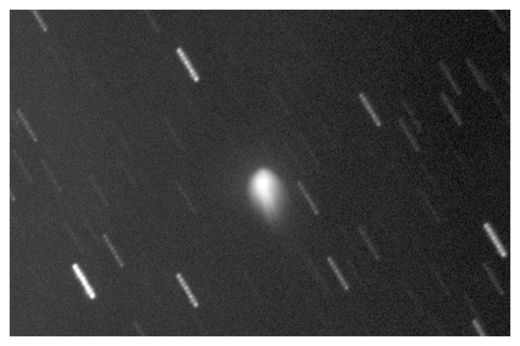 Short-period comet
15P/Finlay
, which had been plunking along at a dim magnitude +11,
has suddenly brightened in the past couple days
to +8.7, bright enough to see in 10×50 or larger binoculars. Czech comet observer Jakub Cerny and his team photographed the comet on December 16th and discovered the sudden surge. Wonderful news!
While comets generally brighten as they approach the Sun and fade as they depart, any one of them can undergo a sudden outburst in brightness. You can find Finlay right now low in the southwestern sky at nightfall near the planet Mars.
While outbursts are common, astronomers still aren't certain what causes them.
It's thought that sub-surface ices, warmed by the comet's approach to the Sun, expand until the pressure becomes so great they shatter the ice above, sending large fragments flying and exposing fresh new ice. Sunlight gets to work vaporizing both the newly exposed vents and aerial shrapnel. Large quantities of dust trapped in the ice are released and glow brightly in the Sun's light, causing the comet to quickly brighten.
Some comets flare up dramatically. Take
29P/Schwassmann-Wachmann
. Normally a dim bulb at 17th magnitude, once or twice a year it flares to magnitude 12 and occasionally 10!