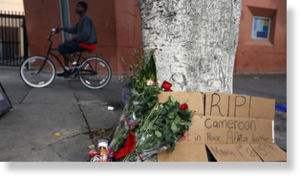 Authorities said Sunday night that Los Angeles police fatally shot a man on skid row during a struggle over an officer's weapons.
Police officials offered a detailed account of what they say prompted the Sunday morning shooting, which was captured on video by a bystander.
Cmdr. Andrew Smith said officers assigned to the LAPD's Central Division and Safer Cities Initiative — a task force focused on skid row — responded to the location about noon Sunday after receiving a 911 call reporting a possible robbery.