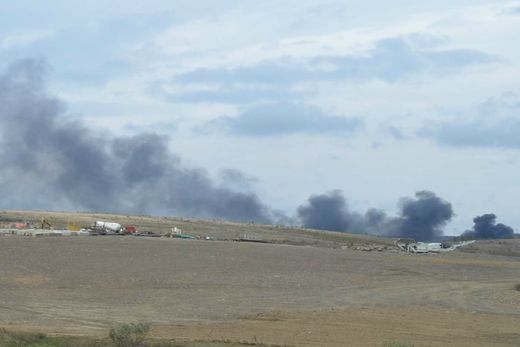 Fire burned through an area of the Flight 93 National Memorial in Shanksville, Somerset County, on Friday, destroying three administrative buildings that housed a portion of the memorial's prized artifacts.
The collection, which includes the American flag that flew over the U.S. Capitol during the Sept. 11, 2001, terrorist attacks and that was presented to the park just last month, was kept in fireproof safes, according to National Park Service spokesman Mike Litterst. The collection's condition, however, cannot be assessed until investigators are able to enter the memorial site sometime this morning, he said.
The affected buildings served as the park's headquarters and included the superintendent's office on Park Headquarters Road, Mr. Litterst said. A fourth building was damaged but saved, local fire officials said.
Local fire officials will hand off investigation of the fire to a team of National Park Service investigators today, Mr. Litterst said. No estimate has been made yet of the buildings' replacement and repair cost.
A Congressional gold medal awarded to the memorial was kept offsite and was not damaged, according to Mr. Litterst. Neither were the portions of the park that visitors see, which are approximately 2 miles from the administrative buildings that were destroyed.
"The sacred ground, the wall of names, the construction of the visitors center, the educational center have not been affected in any manner," said Gordon Felt, president of Families of Flight 93 and brother of Edward Felt, who died on-board the flight. "[Memorial superintendent] Jeff Reinbold has assured me the memorial will be open first thing in the morning to accept visitors, and the experience that guests have who come to pay their respects won't be changed at all."